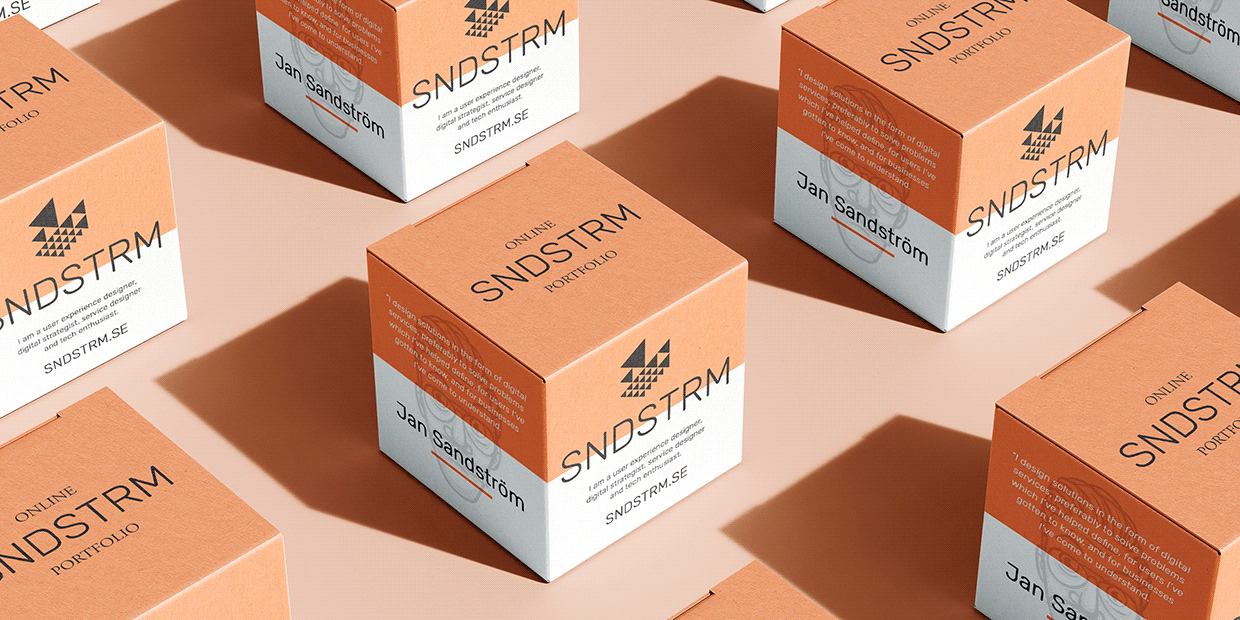 With most of my work being in document form, and not free for me to share, I thought I would share with you from my process.
More specifically a lightweight version of the kind of documentation I usually write for clients before I start the design of a service, but for this very website; sndstrm.se.
I will be more verbal about the process than I would be in a document delivered to a client, since I cannot present these conclusions or tell these stories this to you in person.
---
Step 1: Business research
The first step of the design research does not involve the actual end users. I start with the establishing the long term strategic and the short term effective goals for the client (in this case: me) along with the constraints and identified risks. This often includes a lot of reading up on strategic documentation, workshops with stakeholders and different parts of the client organisation, and observations. I will seek a clear acceptance on these findings before moving on to user research.
Background
The old public website for Jan Sandström was launched in 2017 and is currently out of date when it comes to content describing my career, skillset and ambitions. There is a need to look for additional and, for lack of a better word, better clients as a number of long commitments is coming to an end, and the primary channel towards clients should be brought up to speed and polished.
The name Jan Sandström is not a particularly strong brand in itself, but has some recognition with the clients I've worked with and in the organisations through which I've worked with clients. I do get contacted by new clients on referral and have been headhunted (more or less) to most of the employments I've had during my career.
The old website has moderate traffic, about as expected considering how and where the site has been promoted. Most sessions are from users in the US region which is most likely from industry colleagues and community members who have come across my writing in forums or other platforms.
---
Business goals
The following strategic and effective goals have been identified.
This refers to known clients and recruiters that I initiate contact with, as well as unknown clients and recruiters that seek me out.
The content of the service should not only make descriptive statements about my profile, experience and skillset, it should also have content to support these claims.
While the current website mostly targets end clients, after a few years as a freelancer, it is equally interesting to target recruiters and potential employers.
When it comes to unknown potential clients and recruiters special consideration should be given to create content that targets the right unknown clients and recruiters.
The worldwide UX community is thriving and collaborative. The tenet of sharing knowledge is central and rewarding. While participating in the community through other channels is more common, there might be certain scenarios in which content is best shared through channels fully under my control.
This is not all selfless. Engaging in a community and providing editorial content is an effective way to build a personal brand..
---
Conditions and restraints
Accessibility
The content and the vessel for the content should aim to comply with WCAG 2.1 Level AA, not only because all sites should and can benefit from it, but because certain readers in the targeted user groups may value skills in the field of accessibility.
Language
While readers of the target user groups would most commonly have Swedish or English as their first language, all readers of the target user groups are likely to be fully fluent in English, and since much of the terminology is in English, this is the best choice.
Proprietary and confidential content
As a general designer or pure interface designer it is easy to share the result of your work. As a broad and strategic UX designer, not so much. Not because the result isn't public and available, but because the actual deliverables, the documentation we create, is not. If real example documentation should be offered, it must be with the consent of the client.
Quality, time, cost
These three vectors can be prioritised as above.
The quality of the service takes highest priority, and the existing solution is sufficient in case the deadline needs to be pushed.
The service should be completed and published before august 2021.
There is no specific budget for the development of the service and we should rely on open source techniques as well as software and tools already in use and paid for, but funds can be allocated to procure specific services needed.
---
Risks
I am not a designer
It is easy to get to ambitious and there is a risk of spending to much time in visual design details without really improving on it. Historically for me, personal portfolio projects have ended with a simple design with focus on content, content purpose and content quality.
Still, some illustrations will need to be produced, with or without help.
I am not a copywriter
While I find it easily to write passionately about these subjects, special consideration must be given to ensure the quality of the produced written content, with or without help.
Focus
While the primary target audience seems narrow; employers and clients, the difference in details of the user stories and behaviors of these different users may prove a challenge and prompt a choice for focus; it is likely that we cannot and should not cater to the two in the same capacity.
---
Step 2: User research
So now that we know what we want to accomplish, we can move on the the more important stakeholders; the users. If we can't help them with their goals, they can't help us with ours.
In the previous step we have would have identified the relevant target user groups, and now it is time to get to know them and define the personas and user stories for each of them.
I use technically agnostic user stories to pin down users' business problems while attempting to not think about how the problems should be solved. We do not talk about solutions here. We are not even sure that a website is the best solution yet, and we shouldn't make decisions on that before we get the full scope of the users' business problems.
Chances are I am attempting to create a persona to describe you in your role along with your behaviors and attributes. Don't take it personally, and if you do not recognize yourself in the description at all then your are likely not the client or employer I am looking for.
To be fair I have not conducted any on-site user studies for this specific service. The conclusions and assumptions I make about these users are concocted from the times I have been involved in the hiring process, the times I have been directly responsible for evaluating candidates, and the times I myself have been the candidate.
We should always describe our users as we want to approach them; while there will be plenty of readers who would not be impressed by how I handle certain design challenges, I will create this service for those who would be. Likewise these users might have other needs and user stories, but these are the one I want to solve, the ones I need to solve to reach my business goals.
There are certainly other stakeholders and user groups related to my business and my business goals, but these are the ones that will be catered by this service.
User groups
I can approach known potential clients and employers (the ones I've had contact with and expect a visit form) and their unknown counterparts (the ones that have found me without my involvement) in the same manner. The kind of clients and recruiters I would approach are the ones we are interested pleasing.
Potential employers
👩‍🦰🧑👨👱‍♂️
A potential employer refers to a person who has been tasked with evaluating prospective employees for an organisation with the need to recruit. In different organisations, and in different phases of a recruitment life cycle, this task may be given to different roles; Recruiters inhouse or third-party, business owners, team leaders, tech leads, HR assistants, HR heads, etc.
While the questions which needs to be answered vary between these roles they will all need to be answered before the recruitment procedure is completed; at least for the kind of employers I am looking for.
Andrea
👩‍🦰☎️🌞✉️
Works as a HR assistant or office assistant
Is tasked with gathering candidates and perform an initial evaluation against a given specification, and forward selected candidates for further evaluation.
Does not necessarily understand the intended role of the vacancy, but is curious and wants to learn.
Is ambitions and wants to deliver.
Will review candidates for hard-to-hire roles carefully and thoroughly.
Magnus
👨🎲❤️📈
Works as an Office manager or CEO of a small or medium sized business.
Has the final say in who gets hired.
Evaluates the candidate as an investment in terms of cost and returns.
Is optimistic enough about their business to comfortably hire more staff, and understand that the financial returns may not be immediate.
Is flexible and understands that an organisation constantly need to adapt, and rearrange resources and roles to optimize efficiency. There is no perfect puzzle piece to fit the puzzle piece-shaped hole in the organisation.
Values passion.
Luca
🧑🎓🔎📒
Works as a recruiter, or head of HR.
Is tasked with picking candidates for final selection.
Has an education in behavioural science or sociology.
Is patient and understands that he wont come across the perfect match the day a vacancy is posted, that recruiting is a long game.
Evaluates the candidate as a member of the organisation.
Is structured and meticulous
Is dependent on feedback from roles closer to the production.
Values honesty and openness.
Jim
👱‍♂️🚨🖖💾
Works as a tech lead, team manager, project manager, or project coordinator.
Has insight in how the candidates skills would be used in the team and in projects.
Evaluates the candidates skillset and experience.
Evaluates the candidate as a member of a team.
Is busy but will take the time to review candidates since he is directly affected by the result of the recruitment.
Is protective of the established processes and methodologies. and has an idea about the person he wants in his team.
Values clear and backed statements about skills and experience, and can spot bullshit and excessive use of buzzwords.
User stories
We need to answer some questions.
What does Jan do?
What does Jan want to do?
How good is he at doing this?
How much experience of doing this does he have?
How accurate are the statements and claims made about this experience?
Transparency and in some ways, restraint, is needed when creating a trustworthy profile. Exaggerations are easily spotted and we must assume employers will call any references we provide.
Employers will know the environment they want to place the candidate in and want to be made assure that the addition of a new element would be frictionless.
Different companies and different teams all work differently. Some very strictly adhere to methods as SCRUM or Agile while others work more loosely around certain philosophies old or fresh, and it is of interest to know the experience of the candidate in different setups, as well as the flexibility or adaptability to new settings.
Moving beyond skills, patterns and methodologies; employees have behaviors, and employers have expectations on these behaviors.
The target users values an honest impression in how candidates talk about themselves both factually in statements and in the general tone. Some indication on a persons character might also be derived from the kind of companies and environments the candidate has worked in before.
If an employer feels that a candidate is a good match and they want to proceed with the recruitment, they know they may have to persuade or convince the candidate that the employer is a good match too.
Getting an idea of a candidates ambitions, and what they value in their workplace and career would help in this scenario.
---
Potential clients
👱‍♀️👨‍🦲
A client refers to the owner of a problem in search of someone who can solve or help solve that problem. Generally speaking this refers to potential customers for freelance work, but it might also include the end client in a project, in which I am involved as an employee of an agency, who wants assurances of the claims made during initial briefings and pitches.
This also includes middle-men agencies for consultant work hoping to be able to deliver to their clients.
Susanne
👱‍♀️🪐📟🏆
Works as a account manager in a large consultant agency or as a consultant broker.
Is ambitions and eager to deliver.
Might not have gotten sufficient information about the business case from the end client.
Expects a traditional condensed resumé or CV.
Is in a hurry, the business problems of the end client are urgent.
Björn
👨‍🦲🚀🔥❤️
Works as CEO, CTO or product owner in a small or midsized company.
Is careful, while the risk of hiring a consultant is less than hiring an employee, there is still a risk.
Might not understand the scope of the business problems.
Has tried to solve the business problem within the organisation before reaching out.
User stories
Consultants are brought on to solve specific, intermittent or rare problems. Clients who create large organisations around permanent consultants to reduce financial risks often face other challenges.
Clients are generally less interested in the personal qualities and more focused on the skills and efficiency of a consultant in regards to a specific business case. This is not to say that they do not care about people and if a potential candidate is passionate about the relevant tasks it certainly matters.
---
Design enthusiasts
👨‍🦱
A design enthusiast refers to anyone interested in reading about user-centric design, be it industry colleagues, students or nerds.
Mathias
👨‍🦱🌈🌎💡
Will answer a call-to-action to get in touch.
Is expressive about things he is passionate about.
Is networking and wants a sense of community, but not the kind to wildly add connections without a prior point of contact.
Wants intellectual exchange in UX-related topics.
User stories
The UX community is humble and out-reaching, and while we want to remain sceptic and always second guess praxis in favor of the actual users' needs, we often read up on other designers take and insights on specific design challenges. We generally search for in-depth articles rather than general inspiration.
---
Plattform representatives
🧔
This broadly refers to any person or organisation who wish to benefit from my knowledge as a guest writer in a magazine or on a website, as a speaker at an event, or as an educator.
I wouldn't say I am flooded with offers to write pieces for glossy magazines but as an advocate I have offered to do so on few occasions and anyone in a position to accept such an offer will want to read up on me.
The user group does not require special consideration and will not benefit from any content other than the content provided for the more relevant user groups.
---
Global user stories
👩‍🦰🧑👨👱‍♂️👱‍♀️👨‍🦲👨‍🦱🧔
These cover all user groups and could be considered catch-all or global.
Simply put, most successfully executed user stories will end with the need to contact me, and the user will need to know how to do this.
---
Step 3: Conclusions and insights
So we got our user down and leveraged their needs with our business goals. It is time to start thinking about how we help our users reach their goals.
Before we start thinking about platforms, content structure, information hierarchy, interactions, navigation or other details, let's see which conclusions we can make from what we've gathered so far.
What kind of opportunities and challenges does combined goals and constraints create for our solution?
Conclusions
The service should be a website.
A website is always accessible, easily updated and under my control.
It is easy to consider using a platform like LinkedIn to provide this sort of content, and while this would save some time the advantages would not measure up the benefits of being able to create a new unique information architecture and design the website around it without constraints.
There is already an infrastructure set up for hosting and maintaining a new website.
A website should be built from scratch.
While the old website, created in WordPress, is up to date on it's updates and there are no technical issues, it still gives us some constraints since it is designed around other goals. The time and cost for developing a new site is negligible.
The focus and audience scope should be narrow.
Since my experience covers a lot of disciplines and a lot of industries, it is important to scope and shape the information based on my business goals and ambitions.
I have an opportunity to define what I want to do and what I do not want to do and it is in everyone's interest that this is made clear to visitors; that this culling is done as early in the process as possible.
I am building this service only for the specific users we want to please, at the expense of other users. All users cannot be equally prioritized; in tone, in content, in art direction, in information hierarchy, in copy tone, in interaction and information design. Some users´ information will be less accessible, their questions might not be answered clearly, and the interactions they use will be designed to fit someone else better than them.
This is the price of delightful design for the right user.
The content can make clear who we think this user is. Along with describing my profile I should also in some way describe the attributes, behaviors and patterns of our desired clients.
The website should assume a high level of prior knowledge in users
I am not interested in explaining what user centric design is to those who does not already have a basic understanding of the discipline and its benefits. While I've previously have welcomed gigs where I would lead and help transform businesses, I am now more interested in working with organisations that are more mature in this journey and know what they need help with.
To much elementary information would also obscure the information that is relevant to our preferred users. Any amount of irrelevant or redundant information makes the relevant information less accessible for the right user.
The website will not be the brands' first point of contact with users.
Few users will visit this website without knowing anything about Jan Sandström. They will most likely have been referred here from social networks or by myself, and is likely to revisit during the user journey.
The kind of user that widely googles UX Designer is not represented in the target user groups. This gives an advantage when creating content for the right users; If faced with choices between search engine optimization and readability, the latter is more important.
The website cannot depend on editorial content
I do not have the time or the skill to produce a lot of content and be a beacon of UX advocacy.
Even if editorial content is a good way to build a personal brand and appear as an authority on the covered matters, editorial content should be limited to new paradigms or specific solutions to rare problems.
I shouldn't write an article about what wireframes are. There is no shortage of this information, and I would not have much to add to the community's idea of them. Wireflows however is a technique not widely used to map user journeys throughout the service by use cases, and I could certainly contribute by writing an article on how I use them and the benefits i enjoy from using them.
Before this kind of content can be created more robust content strategy should be created, and the solution must be able to deliver on the set goals without this content.
The service should be general and concise but cater to specific needs on demand.
Different users will want different in-depth information. Publishing cases studies, stories and anecdotes relevant for all users, and written in a way that fits all user would be overwhelming and too broad, and since the solution is not perfect for anyone, it would in my opinion be mediocre by definition.
It is better to keep it short, aim to pique interest, and make it clear that detailed documentation, case studies, references etc. can be provided on demand, and the service could be technically prepared to easily create these tailored experiences for these users.
The tone should be passionate and resolute.
I am passionate about things that interest me. I like people who are passionate about their interrests. I want to speak to people who appreciate other peoples passions.
I can be picky about my goals, long term and short term, and we should be able to be clear about these goals and display self-awereness without appearing cocky or superior.
---
Step 4: ????
Step 5: Profit!
Well, almost. Step 4 would be the actual conceptual design and iterative implementation. This is the point where we start producing wireframes, prototypes, content strategies and create our solution.
This is a lightweight version for a relatively simple service. When I created this type of documentation for Mälardalen University the result spanned 70 pages, 17 user groups and 105 user stories, and we did not write a single line of code or draw a single line on a wireframe before this inital documentation was established and accepted by all primary stakeholders.
Producing this kind of documentation and knowledge is an exploratory process and might involve uncomfortable questions about what the hell you are doing and why, but when these questions are answered it is easy to evaluate specific features and ideas against them. We have a clear purpose for our solution.
How these conclusions lead to this result and the content you are now consuming is another story, and one I would be happy to tell you in person.
Thank you for reading.